"Nightclubs? They'd Rather Play Shuffleboard and Jenga."
When reading this recent headline from The New York Times, we're once again grateful that out of everywhere in the country UK-based Electric Shuffle chose to open, they did so in the heart of Deep Ellum.
The large brick building that was once a warehouse still stands tall today, and on the inside are rooms with a little retro feel that make you feel at home and want to stay a while.
As D Magazine put it when it opened last fall:
"The interior design feels decidedly industrial-'50s retro. The ceiling is illuminated by golden globes and adorned with hanging planters. The owners chose Deep Ellum for its funky, old-world energy akin to Electric Shuffle's original location in Canary Wharf, a once industrial dock turned mixed residential, retail, and business core in London."
Inside you'll find 17 custom-built shuffleboard tables, where interactive gameplay allows 24 friends to play at once while keeping track of pucks and score on a digital leaderboard. Plus, there are four games to keep things interesting.
While shuffling, you can eat and drink — something not to be skipped. In fact, this game-focused place is a worthy stop for lunch, dinner or happy hour. A welcoming bar sweeps the entrance downstairs, and upstairs is a beautiful space worthy of being a regular post-work gathering spot. Or lunch: This spot is open every day for lunch and dinner, plus brunch.
There's a full menu, most of which is appropriate for sharing or enjoying while even the most competitive play against their friends. Try the truffle mac and cheese bites with sriracha-mayo or a pizza like the truffle harvest with white sauce, spinach, wild mushrooms and truffle oil. Burgers, sandwiches, salads, bowls, fries and more fill out the rest. But if you can't decide, go for a sharing platter that serves three to four people, like the sampler with shishito peppers, steak and tomato skewers, sweet potato fries, spring rolls, and truffle mac and cheese bites.
This is a perfect spot to take out-of-town guests or to be part of your regular list of places to go for dinner. (We all have *that* list, and this one should be on it).
If you work or live in the area, there's a lengthy cocktail list you could explore for days during happy hour. The spa day is a delightful, gentle one with vodka, cucumber, basil, lemongrass lemon and Prosecco; or try the indigo elderflower gin and tonic. There are two frozen cocktails, if that's your thing — a peach frose and a limoncello spritz — as well as over-the-top sharing cocktails for two or more friends.
If you're more popular than that, there's plenty of space for events, with capacity ranging from 20 to 500 people.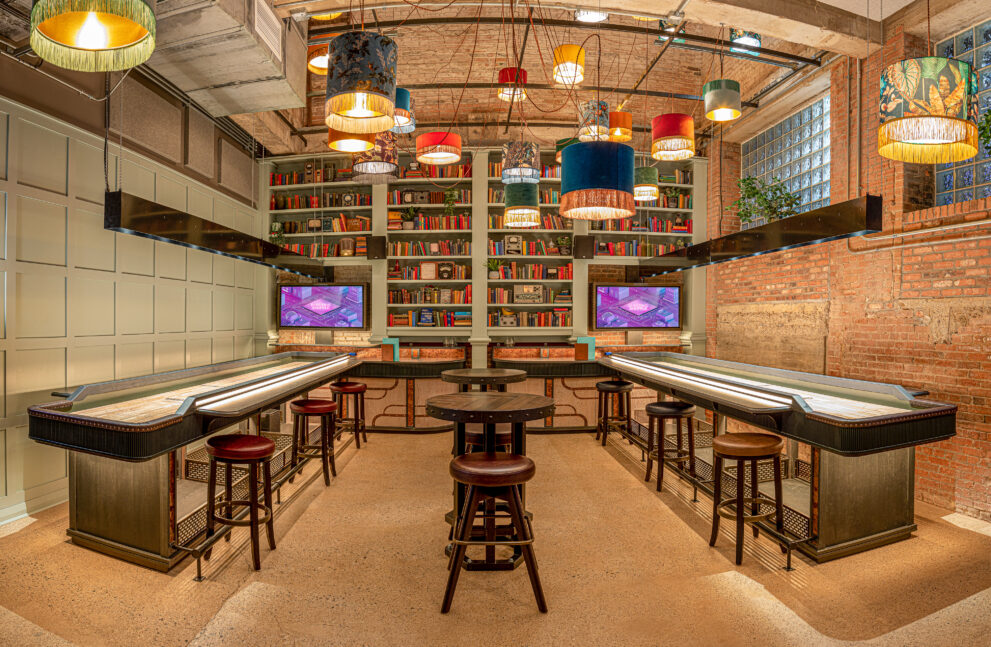 Brunch among the shuffleboards is served on Saturdays and Sundays, too. For $50 a person (or $35 without booze) get one hour of electric shuffleboard, live DJ, an entire bottle of bubbly per guest (yes, really) and juices for mimosas. Of course, there's plenty of food, too: bacon-jam breakfast pizza, avocado toast, assorted pastries, mini chicken waffles and biscuits, fresh fruits and "Trillionaire's" bacon.
Though it might be good enough to stop in during brunch hours for a cocktail — the expected Bloody Mary and Aperol spritz are among a salted caramel-espresso martini and a FIG mule with fig-infused vodka, lime and ginger beer.
Electric Shuffle is not only a wonderful complement to Deep Ellum, but a good time in the city, where people can eat, drink, be merry and beat their friends at a friendly game of shuffleboard.
Walk, ride your bike or get a ride share vehicle to the neighborhood for an easy stop at the door. If driving, park at the Epic across the street.
Electric Shuffle, 2615 Elm St. Open 11 a.m. to midnight Monday through Thursday, 11 a.m. to 2 a.m. Friday, 10 a.m. to 2 a.m. Saturday and 10 a.m. to midnight Sunday.