The pink neon went up outside in September 2021, and the drinks and small plates have been flowing out since. Neon Kitten Izakaya & Dimsum House has been doing such a good job that the Dallas Observer recently put it on its list of Top 100 Bars in Dallas and the surrounding area.
Fun fact: Deep Ellum spots make up 20% — TWENTY! — of that list.
At Neon Kitten, you'll soak in the atmosphere of beautiful but welcoming design. Images of large peonies cover a wall opposite the dazzling bar while staff flows around in a dance-like rhythm staying on pace to keep customers happy.
You can tell the cocktails are crafted with intention, both in development and actual execution, and they arrive in memorable glassware (translation for some folks: They're quite Instagrammable).
The Observer recommends the Osaka, "a snowcone-like drink served in a ceramic Hello Kitty mug made with ume and cherry blossom liqueurs, Roku gin, and a touch of sage and grapefruit-like pomelo for a touch of acidity."
In the back, toward the bathroom, you can find a bookshelf that's actually a door leading to the Blackbird Society: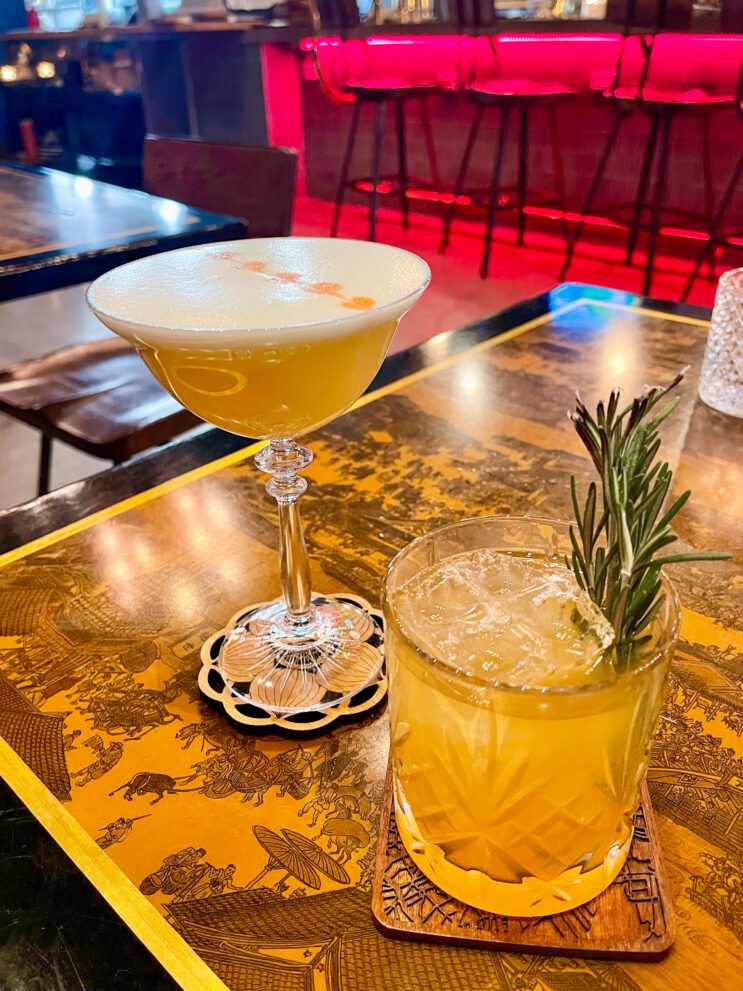 "This speakeasy is a high-end cocktail lounge where a bartender will craft a drink for you based on your preferences, likely expanding the boundaries of what you thought was a good drink. The Blackbird Society is only open Thursday through Sunday. Check their website for reservations; on occasion, if the crowd is light, they may invite a few people from Neon Kitten back," the Observer writes.
But this Main Street spot isn't just about imbibing. You can get plate after plate of small portions to satisfy you. From pan-seared shishito peppers with bonito flakes to blackened, seared tuna steak with chili oil and ponzu and a list of options with dumplings, siu mai and more, you can have some fun.
Pro tip for general dining: Whenever you see the likes of spicy wontons, order that. At Neon Kitten the chili-peanut wontons come in a delightfully spicy sauce blanketing the soul-comforting wontons.
There are a few sushi rolls, poke and even a 12-ounce rib-eye. If getting dumplings, expect the like of vibrantly colored exteriors, staying bouncy and hot in the steam baskets they arrive in. If that all seems too run-of-the-mill for you, order the chicken feet with bean paste.
If there's a crudo on your visit, do order it to get a taste of sashimi dressed with bright flavor.
On our next visit, we're not skipping the neon fried rice with spicy Asian sausage, shrimp, carrots, scallions and sprouts and topped with a fried egg.
You get the idea: Neon Kitten has A LOT to offer. Try it out for yourself.
Neon Kitten Izakaya & Dimsum House is located at 2805 Main St. and open 5 p.m. to 2 a.m. Tuesday through Friday and 11:30 a.m. to 2 a.m. Saturday and Sunday.